Giclée (pronounced "zhee-CLAY") is a fine art term that refers to high-resolution prints on archival paper. Giclée prints are created by professional inkjet printers spraying millions of droplets of ink onto the paper. It is the highest standard of printing using the best technology available. Giclée printing maintains the most tonal depth while producing the widest range of colors possible.

At Wyckoff-Tweedie Photography, our goal is to help you create the best print using the latest technology. The combination of our printer, professional papers and expertise will help you create the finest print possible.

Our Epson 7900 printer uses 10 pigmented inks to deliver the widest color gamut available. We print at 2880 dpi in a 16 bit color depth. We have two papers available: Epson Exhibition Fiber and Hahnemuhle Photo Rag Bright White.

Paper Choices

The Epson Exhibition Fiber is designed to have the look and feel of revered silver halide, F surface, air-dried prints. It offers the highest Dmax and a wide color gamut for stunning color or neutral black-and-white prints. This paper has a smooth surface with an ultra-fine stipple that adds to its reflectivity. The high Dmax value allows for greater definition within black areas and shadows.

The Hahnemuhle Photo Rag Bright White is a matte fine art inkjet paper whose premium formulation allows for a large color gamut with high image definition and 3-dimensional color depth. This matte paper also has a high Dmax value and lends itself well to either black and white or color prints.

If you are a professional photographer or serious amateur, selling your art in shows or from your studio, we can help you create the finest high resolution prints at competitive prices. We print at the highest resolution to create truly remarkable prints. For the amateur photographer who feels that you are not getting all you can from your digital camera, we can help you adjust your workflow so nothing is lost and the most is realized from your digital files. For the professional who is having a hard time getting your lab to print at the highest resolution we should be your choice for those truly special prints.

When you pair your images with our equipment, paper and expertise the result will amaze you. We are the top choice for printing long lasting fine art images. Whether you are a professional photographer looking to create superior prints or a serious amateur who wants to take full advantage of your camera, we can help you attain the best print possible. Call (708)354.2880 for assistance.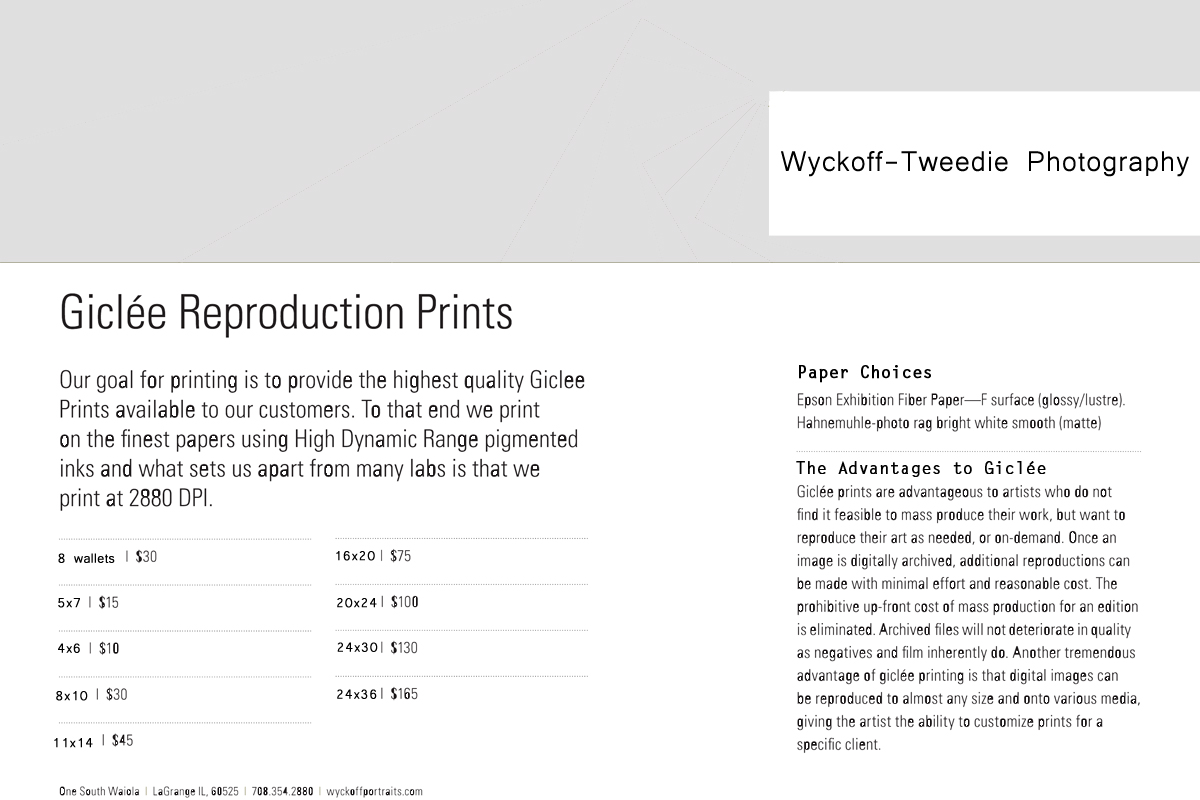 Weddings, Babies, Families, Senior Portraits, Kids, Teens, Newborns, Engagements, Portraits, Photography, Publicity Portraits, Head Shots, Business, Photoshop, Lightroom, Outdoor, Indoor, Girl, Boy, Baby, LaGrange, Illinois, Professional Photography, Maternity, One Year, 1 Year, Mini Sessions, Mothers Day, Fathers Day, Valentines Day, Easter, Christmas, Holiday, LaGrange Photography, Nikon, Cannon, Studio, Studio Portraits, Wyckoff-Tweedie Photography, Wyckoff Tweedie Photography, Studio Photography, 1 South Waiola Avenue, One South Waiola Ave, 60525, Wedding Photography, Family Photography, Family Portraits, Newborn Portraits, Newborn Photography, Kid Photography, Baby Photography, Senior Portrait Photography, Engagement Photography, Head And Shoulder Photography, Engagement Portraits, Outdoor Photography, Indoor Photography, Home Photography, Home Portraits, LaGrange Photographers, Naperville Photography, Naperville Photographers, Downers Grove Photography, Downers Grove Photographers, Hinsdale Photography, Hinsdale Photographers, Downtown LaGrange, Chicago, Chicago Photography, Chicago Photographers, Greater Area Chicago, Downtown Chicago??